January 23rd, 2023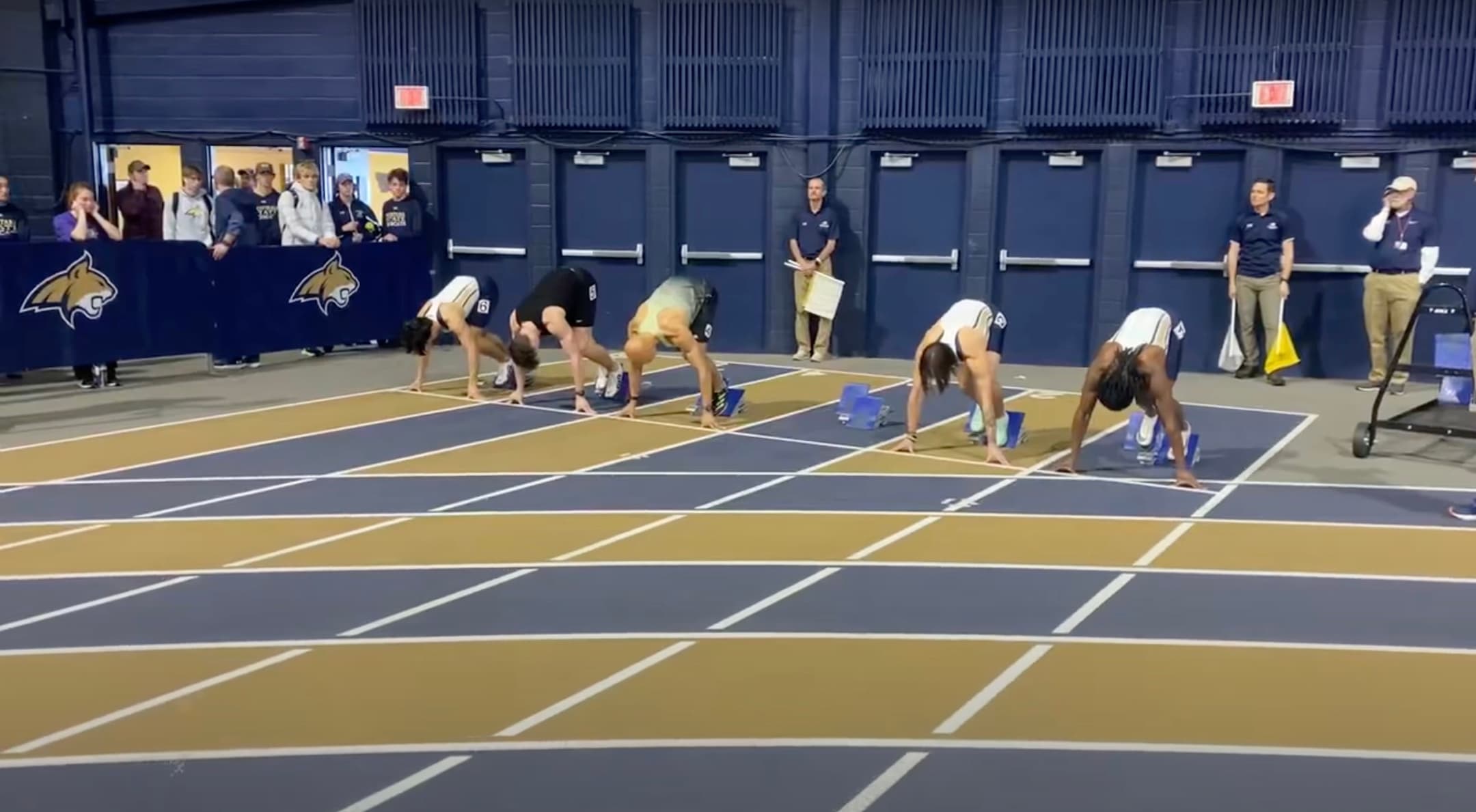 I was back in Bozeman last weekend for the 2023 Bobcat Challenge. In the week leading up to the meet, my coach and I identified that my back was rounded in the "set" position, causing some energy loss on my first step. My PT and I worked on feeling my hip/back angle specifically in blocks which made a huge difference: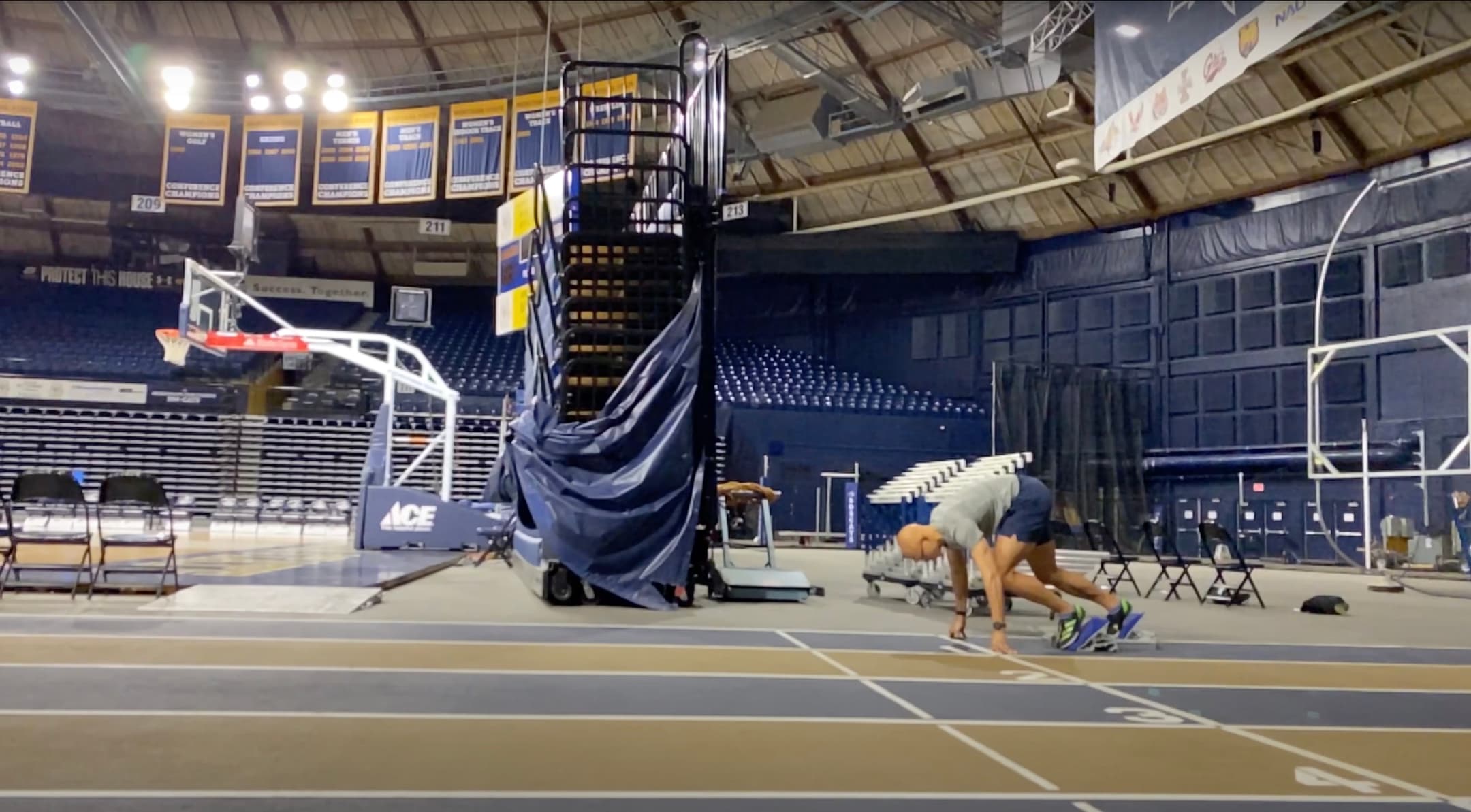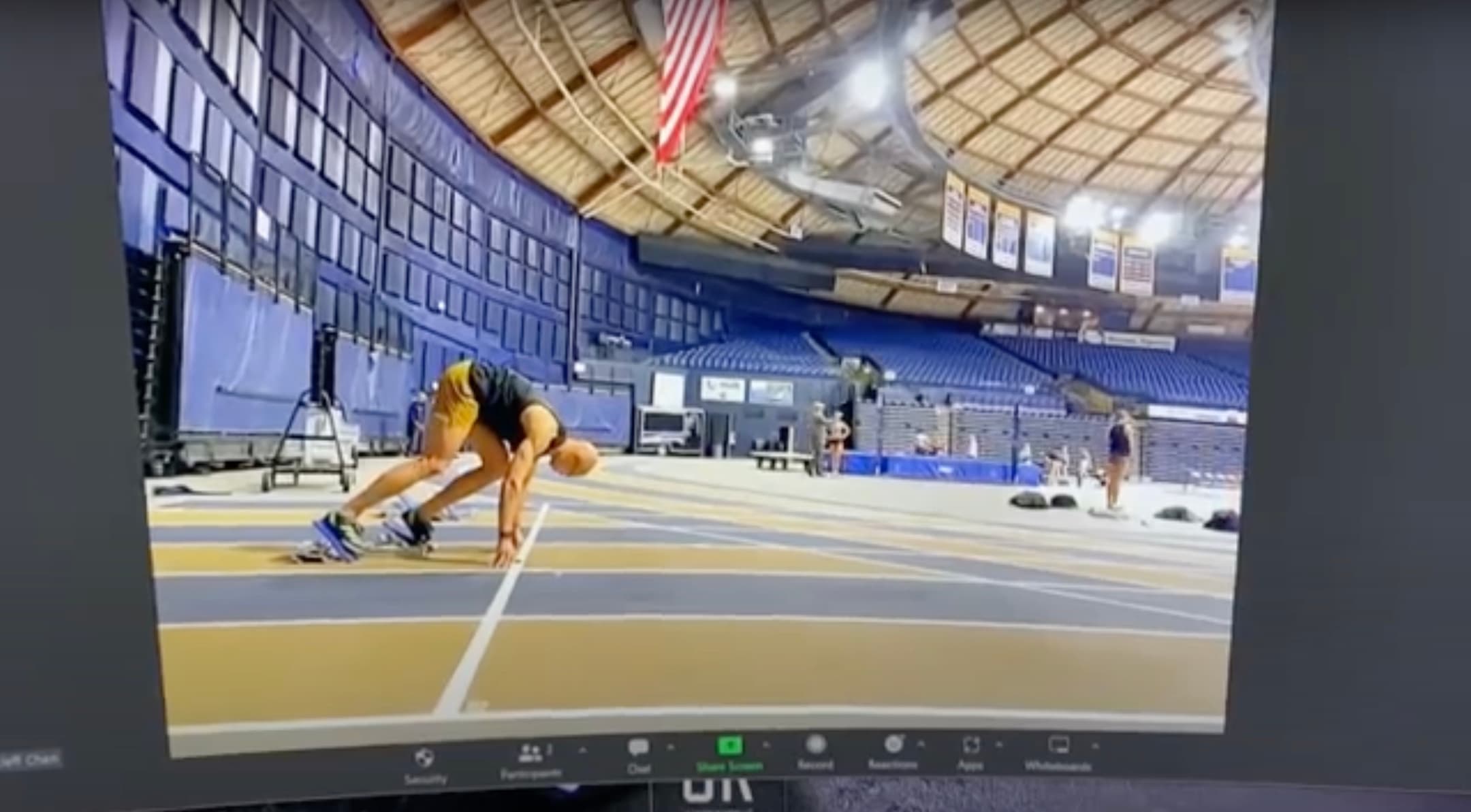 The difference was remarkable; I set several workout PRs in my first speed workout after the adjustment. Naturally, I was excited to put it to the test in a competition setting.
We actually ran this race twice—the first time around, the gun misfired, but the starter didn't recall us until we were 40-50 meters in. Fortunately, they gave us a heat of the 800 to recover before running us again.

My "set" position wasn't quite as sharp as it had been in practice. Then, I took a beat between lifting my hips and straightening my back. But the starter had been quick all day, so I combined both into a single motion. You can see that my back is still a bit rounded in set:

Partially because of my back rounding, I didn't extend my first step as far as I could have. I did recover well, though, and had a step on everybody the whole race.

I had a decent transition and did well staying relaxed at top speed.

I won my heat and took first overall with a new indoor PR of 6.89!
200m: 22.25
For whatever reason, the 60 heats ran slow-to-fast and the 200 was fast-to-slow, leaving me with only about a half hour between races.
I still haven't really done any curve work this year, which definitely bit me on this flat 200m track.
I should have angled my blocks slightly more to the outside—I ran up on the inside line after just a couple steps and had to change my acceleration because of it.
I was surprised by how quickly the second curve came and lost core tension. Without a strong core, my feet were landing all over the place.
I think I still had a bit more headroom to gun it in the first 100 meters. I haven't done a ton of specific speed endurance workouts yet, so I don't quite trust myself to finish strong.
With all that said, I did win my heat and the meet outright with a new indoor PR of 22.25, which converts to a banked time of 21.85. By IAAF points, this was my best race ever and my first time cracking 1000 points!
Overall, I'm well ahead of last year, when I ran 6.97 and 6.96 in January (and 22.56 in the 200). As usual, I think I left a lot on the table—I think I have at least a tenth in me in the 60 and more in the 200. Fortunately, I'll have a couple more opportunities to race indoors this season: I may race at the CU Invitational in Boulder this weekend if I can talk my way into the meet. If not, I'll be back in Bozeman for back-to-back weekends in early February.
Enjoyed this post? Follow me on Twitter for more content like this. Or, subscribe to my email newsletter to get new articles delivered straight to your inbox!
Scroll to top