July 24th, 2021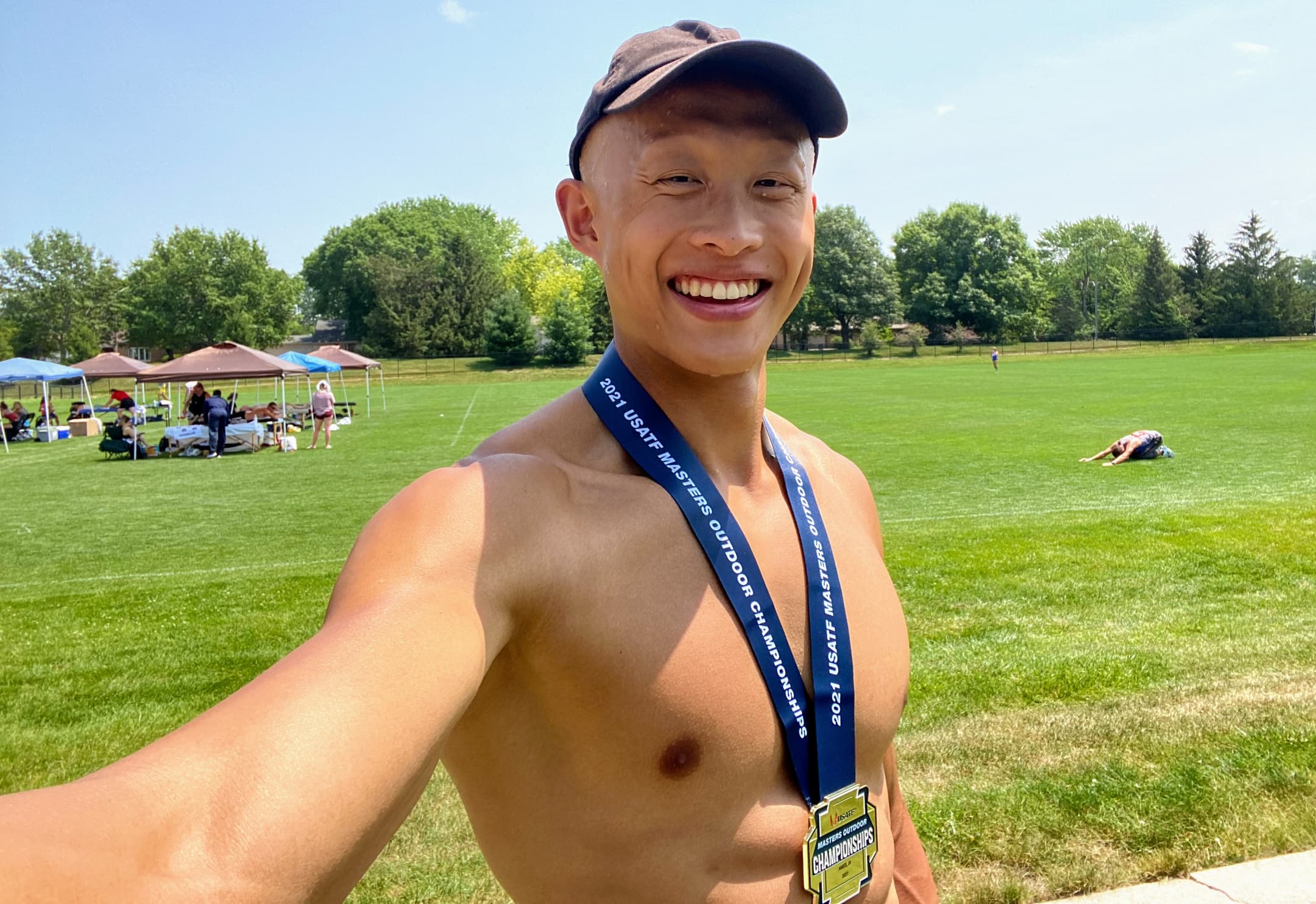 I flew into Des Moines with just one more chance to achieve my season goal: to be 1% faster than last year. I arrived two days before the meet on Thursday—I'd planned for preliminaries on Friday, but my age group (25-29) didn't have enough competitors to need them.
More than any other meet I've raced in recent memory, this meet felt legit. The organizers flawlessly handled more than two thousand entrants across more than a thousand different age-group-event pairings—anyone who's ever been to a track meet before can attest to that level of difficulty. Huge props to USATF and Iowa State for putting together such a well-run meet on short notice!
I was surprised by how many people I recognized at the meet—compatriots I'd shared a track with in both California and Atlanta. But I was more surprised by a couple people recognizing me from this blog! (Hey there, Allesandro and Lemar!) The track community is one of the biggest reasons I love and stay with the sport—I had a great time meeting both fellow post-collegiate athletes and "true" masters competitors.
Since this was my last meet of the season, I ran a 10-day taper—my last day in the weight room was a week before the race, and I gradually dropped my track volume to about 40-50% of normal. Despite sleeping in a hotel room for consecutive nights, I felt remarkably fresh and loose on Saturday morning.
100m: 10.79s (+2.6) (Video)
I had been struggling with my first step in practices, but I was explosive out of the blocks and took a lead from the very start. I stayed patient through my drive and transition phases, and hit max speed feeling great. Unfortunately, somewhere between 60 and 70 meters, just a few steps into my max velocity phase, I felt a twinge in my left hamstring.
I immediately stopped pushing—thankfully, I was still able to cycle at 80-90% and slowly decelerate without making it worse. I managed to win the race, and was shocked to find that despite the injury I had still set a PR! Of course, it was wind-aided—correcting down to a legal +2.0 with this calculator still nets a big PR of 10.81. And I really wonder what could have been—it's impossible to say for sure, but I think dropping into the 10.6 range was a real possibility. My evidence is weak but existent: in Usain Bolt's famous 9.69s world record in Beijing, where he showboated before the finish line, his last 10 meter split was 0.07s slower than his 80-90m split—if he had maintained his speed, his record might have actually been closer to 9.63. Extrapolating to my situation, I started slowing down much earlier than Bolt, so perhaps I lost more time than him.
Speculation aside, if I had one complaint about the meet organization, it would be that there was nowhere to warm up with a track surface. Instead, athletes warmed up on grass. For the most part, I don't mind it—but my last warmup stride is typically close to maximal effort with spikes on, which isn't quite the same on grass. Of course, this is a minor quibble—I certainly don't think it explains either my result or injury.
200m: scratch
With only one functional hamstring, I scratched the 200.
Conclusion
I have mixed, but mostly positive, feelings about this meet. On the negative side, I came away injured, wasn't able to compete in the 200, and missed out on a potentially huge PR. But on a positive note, despite getting hurt, I still set a PR and achieved my goal for the season. I met some great competitors and athletes, and had a ton of fun here in Iowa. I'm already looking forward to next season!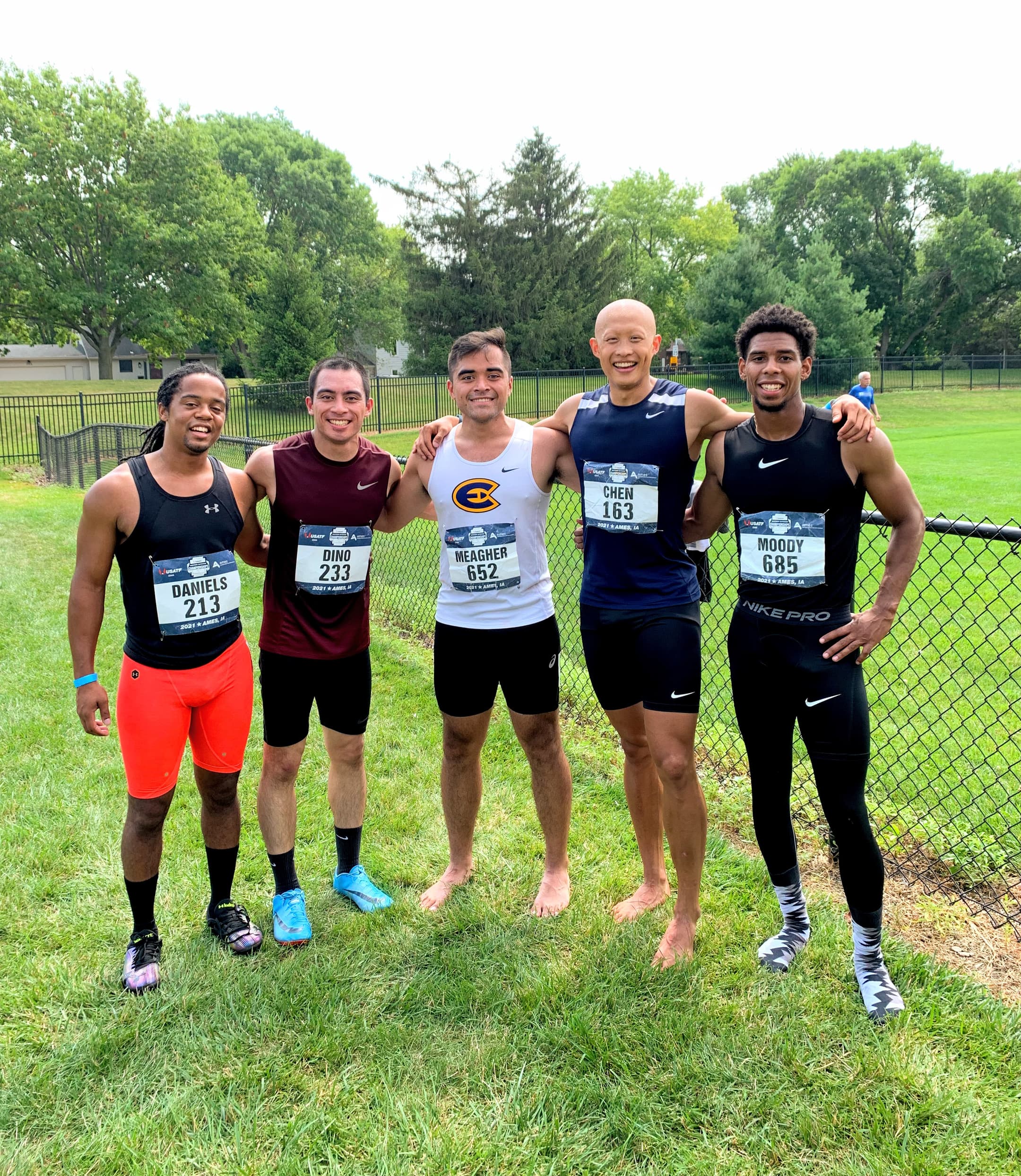 Enjoyed this post? Follow me on Twitter for more content like this. Or, subscribe to my email newsletter to get new articles delivered straight to your inbox!
Scroll to top